Crawley Register Office
Crawley Register Office (not Registry Office) moved in 2008 to a new building on Southgate Avenue containing Crawley Library.
Contacting Crawley Register Office
The Register Office is open from 9.30 to 16.30, Monday to Friday.
Phone 01243 642122 if you intend to:
Register a birth
Register a death
Take part in a civil partnership ceremony
Take part in a religious marriage ceremony not organised by the Church of England and Wales
Obtain a copy of a birth, marriage or death certificate
Research the council's records of births, marriages and deaths, which go back to 1837.
Location
Crawley Register Office is within a short walk of all the town centre car parks
Further Information
To place a notice in the local papers:
To organise a funeral: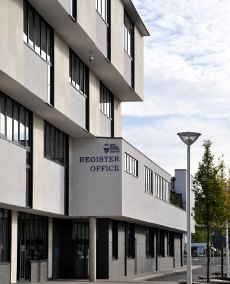 Contact Details
Website

Email

Phone

01243 642122

Address

Southgate Avenue, Crawley, Sussex, RH10 6HG
See More Like This