Snell Hatch Cemetery
Snell Hatch Cemetery, which opened in 1925, is owned, managed, and remarkably well maintained by Crawley Borough Council. Burial records may be inspected at Crawley Register Office.
Opening Hours
The cemetery is open to visitors seven days a week including bank holidays:
November to March: between 9:30 a.m. and 4 p.m.
April to October: between 9:30 a.m. and dusk.
N.B. These times have been taken from the council's 'Snell Hatch Cemetery Rules and Regulations' PDF, dated February 2021. The council's website gives the opening time as 9 a.m., not 9:30.
Burials take place between 9 a.m. and 3 p.m., Mondays to Fridays.
Graves
There are three types of grave at Snell Hatch Cemetery:
Lawn graves, which may contain a headstone.
Cremated remains areas, in which bronze plaques may be fixed to a concrete curb.
Muslim graves.
Location, Accessibility and Car Parking
The entrance to the car park is on Goffs Lane.
For accessibility information, see https://www.accessable.co.uk/crawley-borough-council/access-guides/snell-hatch-cemetery-31bf2c92-25aa-422b-b46c-2ba796e20f06.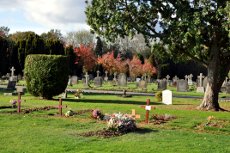 Contact Details
Website

Email

Phone

Phone number not available

Address

The Dingle, West Green, Crawley, Sussex
See More Like This