Crawley Borough Council
Borough Councillors
Crawley Borough is divided into 15 wards, each of which is represented by either 2 or 3 councillors. A map of the wards is available on the council's website .
Councillors are elected for terms of four years. Elections are staggered: only one third of the 37 seats are contested at each election. Results of the latest election can be found on the council's website.
Councillors participate in two types of committee:
Decision-making committees, which deal with matters such as the council tax rate, the provision of services, and planning applications.
the Overview and Scrutiny Commission, which reviews the council's policies and services.
Each year, councillors elect one of their number to be mayor. He or she becomes the public face of the council, carrying out ceremonial duties and participating in charitable activities. For more information about the office of mayor, see the council's website.
The Council
The borough's council is formed by the 37 councillors, who decide general policy and plans. The council has a constitution, which is available as a series of documents in PDF format on the council's website.
The Cabinet
Eight councillors form the council's cabinet, which meets every three weeks or so. There is a Leader and a Vice Chair, and six cabinet members each with a portfolio of duties:
Community Engagement
Continuous Improvement
Environmental Services
Housing
Leisure and Cultural Services
Planning and Economic Development
Permanent Staff
Crawley Borough Council has nearly 800 employees, led by a Chief Executive and 3 directors, who have responsibility for:
Environment and Housing
Community Services
Resources
Contact Crawley Borough Council
Phone (general): 01293 438000
Fax (general): 01293 511803
Chief Executive: 01293 438626
Director of Environment and Housing: 01293 438754
Director of Community Services: 01293 438443
Director of Resources: 01293 438335
Location of Crawley Town Hall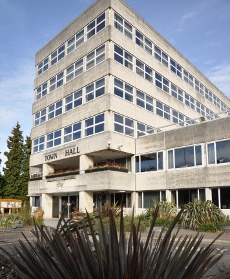 Contact Details
Website

Email

Phone

01293 438000

Address

Town Hall, The Boulevard, Crawley, Sussex, RH10 1UZ
See More Like This