You are here: Home » Directory » Turtle Bay
Turtle Bay
Turtle Bay, the Caribbean-themed restaurant chain, has a branch on Crawley High Street next to Morrisons supermarket.
Opening Hours
Monday: 11:30 to 23:30
Tuesday: 11:30 to 23:30
Wednesday: 11:30 to 23:30
Thursday: 11:30 to 00:30
Friday: 11:30 to 01:30
Saturday: 11:30 to 01:30
Sunday: 11:30 to 23:30
These hours were correct as of October 2018.
Exploitation
It was reported in 2015 that Turtle Bay required its waiters to pay the company 3% of the sales generated by the customers each waiter served during each shift, with the money coming from each waiter's tips. If the waiter's tips were insufficient to cover the 3% charge, staff "will be required to make up the benefit of any shortfall in the next or subsequent shift," according to a Turtle Bay employment contract seen by the Observer newspaper (see http://www.theguardian.com/lifeandstyle/2015/aug/23/restaurant-tipping-policy-forces-waiters-to-pay-to-work).
This practice was reported to be still in operation in September 2018, at least in the company's Bristol branch; see https://www.bristolpost.co.uk/news/bristol-news/turtle-bay-restaurant-bristol-staff-1980394.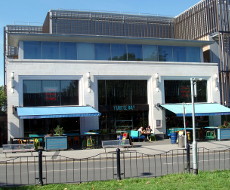 Contact Details
Website

Email

Phone

01293 541101

Address

100 High Street, Crawley, Sussex, RH10 1BZ
See More Like This