Morrison's Supermarket
Morrison's supermarket in Crawley town centre opened in June 2014 on the site of the old cinema, at the north end of the High Street. Two lifts and a series of four escalators, some of which are often in working order, carry customers between street level and the shop.
Car Parking
It contains a free car park, with a maximum stay of two hours and no obligation to shop in Morrison's. Entry to the car park is to the rear of the shop, on Pegler Way. The car park contains some particularly vicious speed bumps.
Features
Other features include:
bakery
butcher
café
disabled toilets
dry cleaner
photo booth
fishmonger
Opening Hours
Monday to Saturday: 07:00 to 22:00
Sunday: 11:00 to 17:00
The café is open:
Monday to Thursday: 08:00 to 19:00
Friday: 08:00 to 20:00
Saturday: 08:00 to 19:00
Sunday: 10:30 to 16:00
N.B. Details are correct as of October 2018.
There used to be a branch of Morrison's in Broadfield, but it closed early in 2015.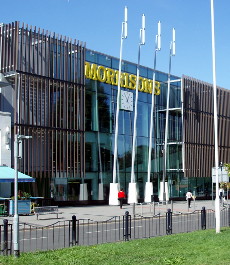 Contact Details
Website

Email

No email

Phone

01293 831649

Address

100 Pegler Way, High Street, Crawley, Sussex, RH10 1BZ