Three Bridges Railway Station
Services
Direct train services connect Three Bridges with London, Brighton, Horsham, Bognor, Chichester and Portsmouth.
The ticket office is theoretically open from 5.55 to 22.15 on Mondays to Saturdays and from 6.40 to 20.45 on Sundays. Allow plenty of time; there are two ticket windows, but at least one of them is usually shut.
When both ticket windows are shut, you will be obliged to use one of the automatic ticket machines, if you can find one that isn't broken, or that only takes credit cards. Allow even more time than if you were buying a ticket from a human being. If you are looking for a one-day travelcard to London, beware: the less extortionately priced option is hidden away, while the more extortionately priced option is on the first screen.
A car park with 220 spaces is available 24/7 next to the station. Phone 08451 272920 for details and prices.
A modern, covered bike rack, surveilled by

CCTV

, accommodates 120 bikes.
A taxi office is just outside the station.
Platforms 3 and 4 contain public toilets which, unlike those at Crawley railway station, are usually not locked.
To improve services at Three Bridges Station, consider joining Bring Back British Rail.
Up-To-Date Train Information
Location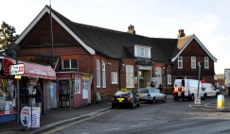 Contact Details
Website

Email

No email

Phone

Phone number not available

Address

Haslett Avenue, Three Bridges, Crawley, Sussex, RH10 1LY
See More Like This
Do You Need a Better Website?
This website was created and optimised for search engines by Lab 99 Web Design, one of the best web designers in Sussex.
The Crawley online directory receives tens of thousands of visitors every month, but has never spent a single penny on advertising. Every visitor is due to the website's high rankings on Google and other search engines.
Find out what a professional website by Lab 99 Web Design can do for your business!