Crawley Railway Station
Services
Direct train services connect Crawley with London (mainly London Victoria, but also London Bridge), Horsham, Bognor Regis, Chichester and Portsmouth. Services to Haywards Heath and Brighton pass through Three Bridges station, about one mile to the east.
The ticket office is theoretically open from 06.10 to 20.20 on Mondays to Saturdays and from 08.40 to 18.15 on Sundays. Allow plenty of time for queuing: there are two ticket windows, but it is rare to find both of them staffed, and not uncommon for both windows to be shut.
There is an automatic ticket machine, which may or may not be set up to sell the type of ticket you are after.
There will often be an inspector by the ticket barriers to stop anyone who hasn't been able to buy a ticket because both ticket windows were shut and the machine didn't offer the correct type of ticket or wouldn't take cash or would only take cash.
There are toilets on platform one, but they are often locked. The next nearest public toilets are at County Mall shopping centre, directly opposite the station, but you may not be allowed out to use them without having to buy a new ticket, which will be difficult when the ticket office is shut or the machine is broken. The toilets at Three Bridges station are usually open, if you are heading in that direction and can hold on.
A car park with 75 spaces is available next to the station at £4.30 per day, Mondays to Saturdays, and £1.00 per day on Sundays (prices correct as of January 2012).
A covered bike rack accommodates 22 bikes. It replaces an old shed that doubled as a urinal (because the toilets at the station are usually locked).
The station contains a taxi office. Parking immediately in front of the station is reserved for taxis.
Crawley Bus Station is directly opposite the railway station.
Up-To-Date Train Information
Train Operating Companies
At the time of writing (January 2012), trains that pass through Crawley railway station are operated under a public subsidy, private profit scheme by Southern Railway Ltd, part of the Govia company, which is jointly owned by Go-Ahead Group and Keolis. Govia also operates the Gatwick Express service between the airport and London Victoria, as well as several other regional services.
No figures are available for the subsidies given to the owners of Southern Railway Ltd. For more about the use of rail services as a means of transferring wealth from the less well-off to the better-off, see:
Location
Crawley train station is very close to the town centre, and is just over the road from the shops at County Mall.
History
Crawley's original train station was built in 1848 close to the southern end of the High Street, serving the newly-created line between Three Bridges and Horsham. In 1862 this single-track line was replaced by two tracks.
The expansion of Crawley during the 1950s and 1960s prompted the building of a new, larger station just to the east of the original. The old signal box and platforms have been preserved, and can be seen at each end of the level crossing on the High Street.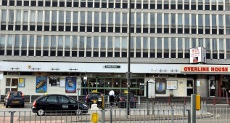 Contact Details
Website

Email

No email

Phone

Phone number not available

Address

Station Way, Crawley, Sussex, RH10 1JA
See More Like This