Crawley Hospital
Crawley Hospital contains an accident and emergency centre.
Visiting Hours
Standard visiting hours are from 14.30 to 20.00, although some wards may have more flexible hours.
Patient Advice and Liaison Services
This service provides confidential advice and support to patients and their relatives.
Phone: 01737 768511 ext 6922, or 01293 600399.
Email: pals@sash.nhs.uk.
Location and Car Parking
Crawley Hospital is on West Green Drive:
Parking is very limited at Crawley Hospital. The pay and display car park costs:
£1 for up to one hour
£2 for up to two hours
£3 for up to three hours
£4 for up to four hours
£5 for between four and 12 hours
£25 for over 12 hours.
Parking is managed by Crawley Borough Council (phone: 01293 438218). There are also paid car parking spaces just outside the hospital, along West Green Drive.
The hospital is, however, only 5 minutes' walk from the large multi-storey car park on Orchard Street, which is open until 8pm every day except Sunday.
Four Metrobus routes stop close to the entrances to Crawley Hospital:
Route 1 (Broadfield, Southgate, Crawley town centre, Gossops Green, Bewbush) — the main entrance on West Green Drive
Route 2 (Tilgate, Furnace Green, Crawley Town centre, Ifield, Ifield West) — West Green Drive entrance
Routes 526 and 527 (Charlwood, Horley, Smallfield, Crawley town centre) — Ifield Road entrance
N.B. Parking and bus information is correct as of March 2017.
History and Ownership
A cottage hospital existed in Crawley from 1896 until the 1930s, when a district hospital was built on the site of Ifield Lodge in West Green. The current hospital was built on the same site in 1961. Extensions were added in the late 1960s and in 1981.
In the 1990s, Crawley Hospital's accident and emergency and maternity services were transferred to the East Surrey Hospital in Redhill, and the opening of the new hospital in Haywards Heath led to an ultimately unsuccessful proposal to close the hospital in Crawley. The creation of a 24-hour walk-in centre in 2004 and an urgent treatment centre in 2007 restored accident and emergency treatment to Crawley Hospital.
Crawley Hospital is managed by the Sussex Community NHS Trust. Some services are provided by the Surrey and Sussex Healthcare Trust. Ambulance services at Crawley Hospital are provided by the South East Coast Ambulance Service.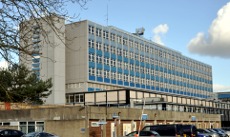 Contact Details
Website

Email

No email

Phone

01293 600300

Address

West Green Drive, West Green, Crawley, Sussex, RH11 7DH
See More Like This