Langley Miniature Models
Langley Miniature Models are based in Three Bridges, Crawley.
The company manufactures and sells many types of miniature models and kits, including:
railways: rolling stock, stations, passengers
boats: canal boats and locks, fishing boats, docks and dockers
circuses, fairgrounds and zoos: clowns, fairground rides, zoo keepers, animals
military: from Romans to the present day, and fantasy
everyday scenes: people, buildings, vehicles, Victorian to the present day
accessories: paint, glue, solder, transfers
Location
Langley Miniature Models is on Three Bridges Road: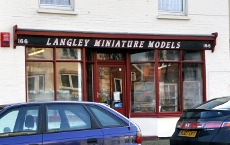 Contact Details
Website

Email

No email

Phone

01293 516329

Address

166 Three Bridges Road, Crawley, Sussex, RH10 1LE
See More Like This
Do You Need a Better Website?
This website was created and optimised for search engines by Lab 99 Web Design, one of the best web designers in Sussex.
The Crawley online directory receives tens of thousands of visitors every month, but has never spent a single penny on advertising. Every visitor is due to the website's high rankings on Google and other search engines.
Find out what a professional website by Lab 99 Web Design can do for your business!