Alan Pontet Driving Tuition
Alan Pontet, a driving instructor based in Ifield, offers driving lessons in Crawley and the surrounding area.
Learning to Drive Your Way
In any education you want to own your learning, and since each of us is unique, you want someone to enable you to learn to drive 'your way'. Alan Pontet helps you to do this by using client-centred learning elements in his driving tuition. Learning to drive your way also empowers you to accept responsibility for your driving standard and to drive safely throughout life. Alan is available for you in most areas in and around Crawley, stretching up through Surrey into south west London. Alan works as a sole trader, and not a driving school, which means that he employs no-one else, so, when you call Alan answers, and when you make an appointment Alan arrives.
Payment Arrangements
Since each of us is unique, we also have our own economies, and setting the same fee levels for everyone might not suit everyone. Alan recognizes this by inviting you to agree your own fee levels and payment arrangements. For payment, Alan recommends paying on-line direct from your account to his, since this avoids extra costs incurred using other methods. If you cannot do this, Alan still accepts cash as an alternative.
Qualifications and Experience
Alan had many years of commercial driving experience before qualifying as a driving instructor. He has been teaching the subject for more 20 years, and is currently graded 5 — the second highest grade awarded by the Driving and Vehicle Standards Agency. See his website, www.alanpontetdrivingtuition.co.uk, for more info and recommendations.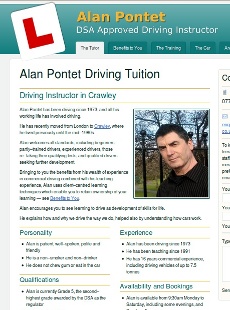 Contact Details
Website

Email

Phone

07739 508 398

Address

26 Selham Close, Ifield, Crawley, West Sussex, RH11 0EH
See More Like This